When:
November 4, 2021 @ 1:00 pm – 2:00 pm
2021-11-04T13:00:00-04:00
2021-11-04T14:00:00-04:00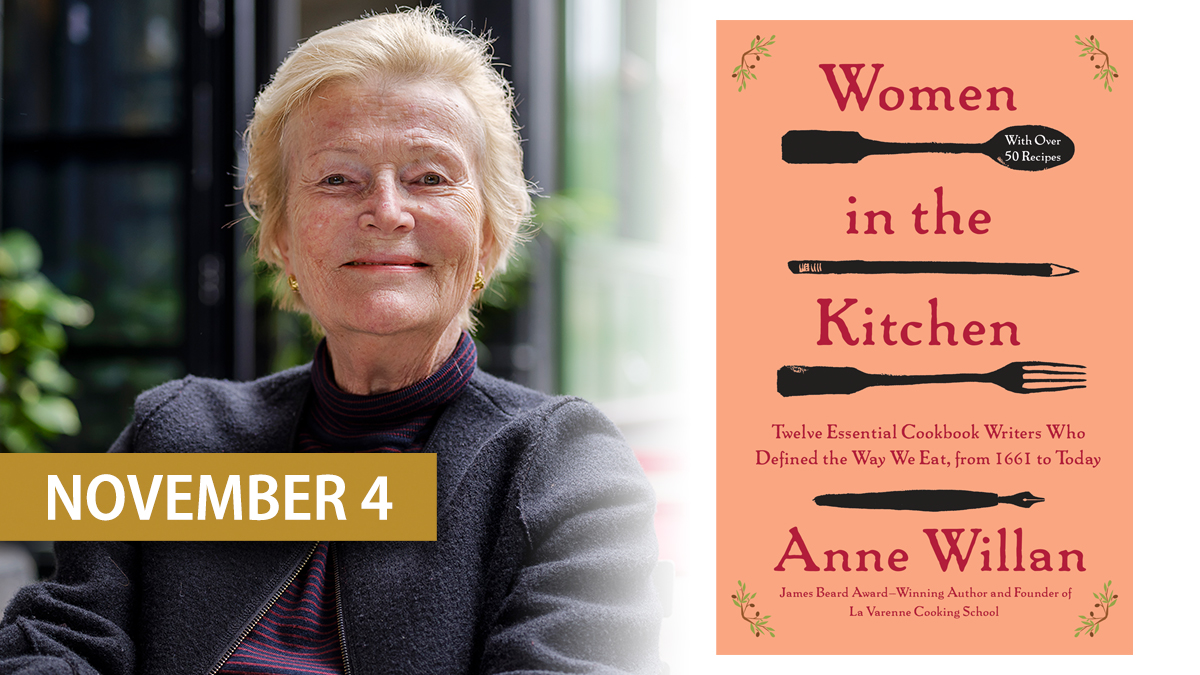 When: Thursday, November 4th at 1PM
Moderator: Sheryl Julian, award-winning food writer
Presented by American Inspiration Author Series in partnership with State Library of Massachusetts
A culinary historian traces the origins of American cooking through profiles of twelve essential women cookbook writers, highlighting their key historical contributions and recipes.
Anne Willan, multi-award-winning culinary historian, cookbook writer, cooking teacher, and founder of La Varenne Cooking School in Paris, explores the lives and work of women cookbook authors whose important books have defined cooking over the past three hundred years. Beginning with the first published cookbook by Hannah Woolley in 1661, Women in the Kitchen moves through history to show how female cookbook authors have shaped American cooking today. Don't miss learning more about such the lives and influences as such influential cooks and chefs as Fannie Farmer, Julia Child, and Alice Waters.
Anne Willan founded La Varenne Cooking School in Paris in 1975 and has written more than thirty books, including the double James Beard Award-winning, The Country Cooking of France, the Gourmand Award-winning The Cookbook Library, and the groundbreaking La Varenne Pratique, as well as the Look & Cook series, showcased on PBS. In 2013, she was inducted into the James Beard Foundation Awards Hall of Fame. Willan serves as an Emeritus Advisor for The Julia Child Foundation for Gastronomy and the Culinary Arts.
Sheryl Julian was the longtime award-winning Food Editor of The Boston Globe. She trained at the Cordon Bleu schools in London and Paris, was deputy director of La Varenne cooking school in Paris, is co-author of The Way We Cook, and editor of The New Boston Globe Cookbook. She runs food styling workshops in the Boston area, writes regularly for The Boston Globe, and teaches food writing in the Gastronomy master's program at Boston University.